Buying Cars
Visiting a car dealership can be like shopping at a mega department store that only carries one product made by several different companies. How do you know which car is right for you? Should you buy a used car, a new car, or should you look into car leasing? Which car has the best warranty? Gas mileage? Re-sale value?
The answers to these questions are available. Whether you are buying a car online, from a car dealer, or through an auction, you can find what you are looking for right here in our tips.
Tips, Tricks, and Answers
The following articles are available for the 'Buying Cars' topic. Click the article''s title (shown in bold) to see the associated article.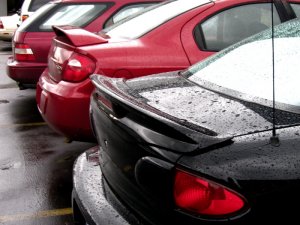 Buying a Car Online
Shopping online for a car can be both quick and easy. Even so, an online shopper must remember the basics of automobile shopping. The most important thing to remember? Let the buyer beware!
Buying a Used Car from a Dealer
Buying a used care, while daunting, is easy for the well-prepared savvy shopper. The tips and techniques discussed here will be beneficial in your efforts.
Buying a Used Car from an Individual
Typically buying a car can be a crap shoot. Here's a guideline for anyone wanting to conduct the private purchase of a vehicle.
Buying Cars at Auction
Auctions can offer you the best possible deal on a vehicle. Here are some tips for you to be able to make your next trip to purchase a car a successful one.
Buying Cars Wholesale
Buying wholesale is a one of the best ways to get a great deal on purchasing a vehicle. Here is the way that you can get those special deals that seem to apply only to dealers.
Comparison Shopping for a New Car
There is an old song that says "You better shop around..." Well, here is how you can do that with a new car purchase.
Determining If a Used Car is Reliable
It can be extremely frustrating to find that the new for you used car you just purchased is nothing more than a lemon. Avoid that problem by learning the right way of determining if a used car is reliable. You will be amazed at just how easy it really is.
Figuring Out the True Cost of Car Ownership
On the average, when most people begin thinking of purchasing a new car they only really focus on the sticker price. A few people look beyond that, and will consider how much the total loan price will be. However, very few ever try figuring out the true cost of car ownership. You will be surprised at what this figure really is.
Getting a Used Car Checked by a Mechanic
Making sure that a used vehicle is mechanically sound j is an extremely vital step in purchasing any new for you car. Here are some ways that you can have a used car checked by a mechanic, even if you don't have one go with you.
How to Test-Drive a Car
It can be loads of fun going out and getting a new car, but unfortunately many people view the test drive phase as nothing more than a simple joy ride. Learning how to test drive a car properly can mean all the difference between choosing a dream, and being left with a lemon. Good thing it's not that difficult.
Hybrids: Hype or Hope?
Are you thinking of purchasing a new vehicle? With gas prices increasing on an almost daily basis, hybrids have become the hottest item in vehicle purchasing. Here is what you need to know in regards to these popular new vehicles.
Is an Extended Warranty Worth It?
Whenever someone purchases a new or used vehicle, the salesperson will typically ask if you want an extended warranty. But is an extended warranty really worth it? Before you find yourself on the spot and end up making a hasty decision, there are a few things that you should consider.
Picking a Good Family Car
Congratulations! You have been told that you are going to have a family, this is great, this is...uh, oh. This means that you have to get a new car for the new family! Not to worry, here is how you do it.
Understanding a Car Dealer's Invoice Price
While many people may not believe it, understanding a car dealer's invoice price can be a very helpful thing. In fact, by knowing this information, you can go a long way to getting the best possible deal when purchasing a new car.
Understanding New Car Sticker Prices
If you don't understand how to read the price sticker on a car, then you are not going to be able to get the best possible deal when negotiating. Here is what's on most stickers at a car dealership, and what they mean.